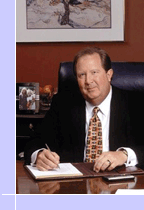 Robert B. Barnett, Jr.
Estate Planning & Probate Administration
Phone 614-628-0766
Fax 614-221-0216
RBB@cpmlaw.com
Mr. Barnett received his law degree cum laude in 1975 from Ohio State University. He is the Managing Partner of the firm. He practices in family owned business and succession planning, with emphasis on estate planning. He is a Fellow of The American College of Trust & Estate Counsel, a member and past Chairman of the Columbus Bar Association Taxation Committee, past Chairman of the Columbus Tax Conference Committee, a former member of the Columbus Bar Association Ethics Committee and a current Chairman of the Columbus Bar Association Probate Court Committee.
He is a frequent speaker at seminars on business succession, estate and retirement planning. He currently serves as the President of the Alumni Corporation of the Ohio State Chapter of Sigma Phi Epsilon Fraternity, and is a past member of the Board of Trustees of the Goodwill Rehabilitation Center and the Executive Committee of the Development Board of Children's Hospital of Columbus.