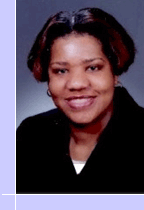 Necol Russell-Washington
Business Litigation & Domestic Relations
Phone 614-628-0839
Fax 614-221-0216
NRW@cpmlaw.com
Ms. Russell-Washington received her undergraduate degree, cum laude, from Franklin University in 1996, and her law degree from The Ohio State University in 2000. Prior to joining Carlile Patchen & Murphy, she was a staff attorney in the Franklin County Court of Common Pleas, Division of Domestic Relations and Juvenile Branch. During law school, she was the Director of Project Management and Quality Control for The Ohio State University College of Law Pro Bono Research Group, and also received the designation of Public Service Fellow upon graduation.
Prior to law school, Ms. Russell-Washington was a corporate trust officer for a national financial institution, and served as a sergeant in the U.S. Army Reserves. She is a member of the American, Ohio State, and Columbus Bar Associations, and concentrates her practice in business litigation, with a secondary practice in domestic relations.