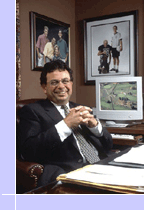 Anthony Delligatti, Jr.
Phone 614-628-0799
Fax 614-221-0216
AJD@cpmlaw.com
Mr. Delligatti received his undergraduate degree from The Ohio State University in 1965, and his law degree from Capital University in 1972. He is a member of the Columbus Bar Association and has served on the Litigation Practice Institute, Common Pleas Court Committee, Family Law Committee, Negligence Law Committee and Trial Advocacy Committee.
Mr. Delligatti also belongs to the Ohio State and American Bar Associations, the Franklin County Association of Trial Lawyers, Ohio Trial Lawyers Association and the American Trial Lawyers Association. He is a member of the Columbus Bar Foundation and serves on the Board of Trustees for the Goodwill Rehabilitation Center and the Columbus Arthritis Foundation. He has an extensive practice in business and complex litigation, as well as personal injury, domestic relations and real estate.